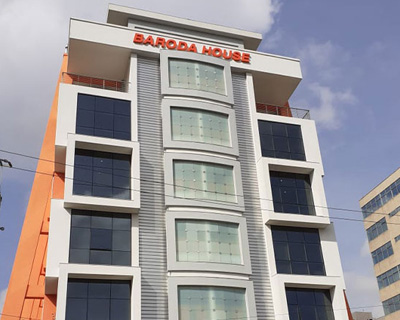 About Us
A saga of vision and enterprise
It has been a long and eventful journey of more than a century, Bank of Baroda in India The parent Bank has International presence in 94 overseas offices spanning 17 countries. Starting in 1908 from a small building in Baroda to its new hi-rise and hi-tech Baroda Corporate Centre in Mumbai, is a saga of vision, enterprise, financial prudence and corporate governance. It is a story scripted in corporate wisdom and social pride. It is a story crafted in private capital, princely patronage and state ownership. It is a story of ordinary bankers and their extraordinary contribution in the ascent of Bank of Baroda to the formidable heights of corporate glory.
Read More
Products
Personal Banking
Corporate
Personal Banking
Experience banking like never before An array of services and products to choose from.
Baroda Current Account Individual
Current Deposits product is ideal for Individuals, Business firm, companies, institutions and other corporate bodies etc.
Baroda Fixed Deposit Account
Enjoy higher rate of interest with longer periods of deposit. Your money remains safe and secure with an option of easy liquidity.
Recurring Deposit Account (Bob Vuna)
Invest a little each month in a recurring deposit account, and watch your savings grow.
Baroda Savings Account
This account is designed to suit your lifestyle requirement.
Baroda TOTO Account
Savings Bank Deposit Account for Children of age below 18 years
Baroda Education Loan
To meet educational expenses of student for study in Kenya or abroad
Baroda Traders Loan
Baroda Traders Loan (BTL) is one of the key products of retail loan basket available against the security of immovable property/ies, which caters to the financial needs of business entities in trading of permissible goods. The objective of Baroda Traders
Baroda Additional Assured Advance
The existing Home loan borrowers of the bank can avail "POP – Up" loan for all lawful economic activities & personal needs, to the extent of amount of Principal repaid
Baroda Car Loan
With Bank of Baroda (Kenya) Ltd, buy your own dream car at an attractive rate of interest. It is easy, hassle free with no hidden charges and no foreclosure charges either. Visit any of our branches to know more.
Baroda Home Improvement Loan
For repair / renovation / improvement/ extension of existing house
Baroda Home Loans
Home Loan Solution for Individuals / families aspiring to own dream home in Kenya
Baroda Loan Against Future Rent Receivables
For general business/ personal needs (except for speculative or any other activity restricted by the CBK/Government)
Baroda Mortgage Loan
An innovative product of a Loan or Overdraft facility with flexible repayment options, Bank of Baroda (Kenya) Ltd. has introduced Baroda Mortgage Loan (BML), for any purpose allowed within the law except for financial speculations.
Baroda Personal Loans
A quick and easy solution to all your urgent financial needs
Corporate
Start small, dream big, build your empire An array of services and products to choose from
Deposit Accounts
Loans Advances
Baroda Premium Current Account
Premium Current Account for Individuals and Business Entities with an attractive interest on Deposits and bundle of other benefits.
Baroda Kenya Salary account
Open a Baroda Salary Account today and enjoy all the benefits tailored to meet the needs of all salaried class employees from entry level to top management, from Government Sector and Private Sector.
Baroda Current Account
Baroda Current Account is ideal for Individuals, Sole Proprietors etc., who need banking facility more frequently.
Fixed Deposits
One of the best benefits of recurring deposit is that it helps with goal based savings.
Asset Financing
Hassle free loan for purchasing of new vehicle.
Baroda Biashara Loans
Facility Overdraft or Loan
Corporate/SME Loans
We keep your Business Rolling. Give Your Business a Stronger Platform to grow. Whatever be the size of your business we have the Banking solution to suit your needs.
Insurance Premium Finance (IPF)
For payment of premium to insurance companies for covering insurance of machineries and other assets
Loan Against Future Rent Receivables
For general business/ personal needs (except for speculative or any other activity restricted by the CBK/Government).
AUD

101.00 Buying

105.00 Selling

EUR

166.50 Buying

173.00 Selling

INR

1.8300 Buying

1.9000 Selling

JPY

103.00 Buying

107.30 Selling

ZAR

GBP

193.00 Buying

200.50 Selling

USD

153.15 Buying

158.50 Selling
Disclaimer: Rate shown are indicative for the day and subject to change without prior notice. Last Updated: December 01, 2023